Nicole Brar is a VR Fitness Instructor based in Los Angeles, CA. Nicole streams healthy recipe cooking shows, yoga classes, weight training and other home workouts live from her home to yours — no matter where you live in the world!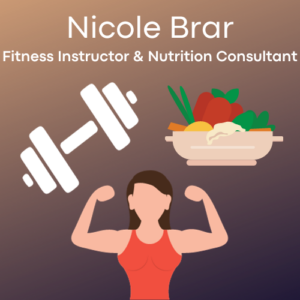 VR Fitness Instructor
Nicole Brar has been available as a Fitness Instructor and Nutrition Consultant in Virtual Reality (VR) for three years.  Before the COVID-19 pandemic, Nicole would train one-on-one with clients at her local gym in Los Angeles, CA.  But when she was faced with gym closures during the height of the pandemic, Nicole had to get creative.  The resulting idea was to launch her Fitness Training and Nutrition Consulting in Virtual Reality.  This has been the absolute best choice the Instructor could have made for her career — and for her clients' health and fitness goals!  Now, Nicole is able to connect with and train people from all around the world.  No longer limited to one-on-one training sessions in the LA area, she is able to make a positive impact on hundreds of clients in countries like Australia, Uruguay, England and so many more!
Virtual Reality (VR) Fitness is any type of health, wellness or fitness training class that can be taught in a Virtual Reality (VR) setting.  Nicole Brar Fitness Instructor joins her clients in various VR settings, including PlayStation VR, Meta Oculus Quest and Viture.  For clients who are unable to join in VR, Nicole additionally offers a live stream of her workouts and healthy recipe cooking classes.  These live streams are broadcast in tandem with her VR sessions, so all of her clients can join in together at the same time!