Bartering Exchange Network offers money-free service and skill exchanges between professionals.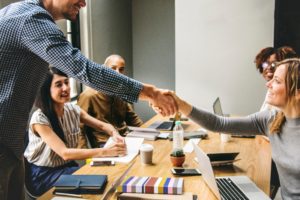 You'll never pay a fee to barter your services on BEN! Moonlight as a free agent or expand your client base all by bartering your skills with other artists, creators and professionals.
The Bartering Exchange Network is a community of professionals offering their expertise in exchange for yours. Members of the BEN community offer their services in a trade for another member's services — for free. From searching the website to swapping services, BEN is completely free.  No membership fee. No website-exclusive 'currency.' Only skill-for-skill trade!
Example:  You're looking for a special event photographer, but you've maxed out your event's budget.  By using the Bartering Exchange Network, you can seek out a photographer — for free. All you have to do is offer a service of your own in exchange for the photographer's work.
By searching BEN's catalogue, members can browse the profiles of various professionals offering to barter their services, at no charge.  While most service bartering websites require that you present both what you're seeking and what you're offering, BEN takes a slightly different approach.  Members of BEN's community exclusively list their provided services on their profile. This offers an open-ended opportunity, as members are not limited to a "this for that" exchange.  Members seeking a service browse skill categories and reach out to listed professionals with their own proposed trades. From there, the two members negotiate a deal.