Sam Miri SVP is the Senior Vice President of Omnichannel Strategy at Bally's Interactive. Highly experienced in sales, marketing and business development, Miri is a tried and tested executive leader.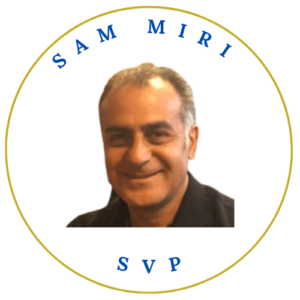 Bachelor of Science in Computer Engineering & Mathematics — Santa Clara University
Sam Miri is a proud graduate of Santa Clara University, where he earned his Bachelor of Science degree in Computer Engineer & Mathematics.  Following the completion of his Bachelor's, Miri established the foundation of his career with pursuits in the engineering field.  In combination with his entrepreneurial energy and business acumen, the executive leader is well-equipped to hold his current position of Senior Vice President of Omnichannel Strategy at Bally's Interactive.  Miri is a fierce proponent of the practice of continued learning and a push for overall improvement.  With this notion in mind, he eagerly seeks out new opportunities to keep pace with his industry, including leadership workshops and professional development courses.  On his blog, Miri hosts a series featuring upcoming executive leadership events and hands-on educational opportunities for professionals who strive for continuous improvement and lifelong learning.
In 2021, Sam Miri joined the Bally's Interactive team.  Miri's extensive experience in computer engineering and software development, combined with his knack for sales, made him the perfect candidate to take on the role of Vice President of Gamification & Sensor Technology.  The VP thrived in this role, where he was able to directly impact and influence the development and expansion of cutting edge technology in the Bally's Interactive gaming arsenal.  This experience would prove both enriching and exciting for Miri.  As an engineering professional, he is fascinated by the forward thinking technologies that Bally's is introducing to revolutionize gamification overall.  Being a part of taking it all to the next level is something that Miri is exceptionally proud of.  In 2022, the VP was promoted to SVP; Miri now represents the team as Senior Vice President of Omnichannel Strategy.