Aaron Umen is a proud member of Case Western Reserve's Men's Tennis team. More than just a pastime, Umen views the sport of tennis as a passion both personal and professional.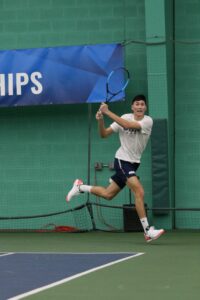 For as long as he can remember, some of Aaron Umen's most incredible memories have been spent on a tennis court.  Throughout his still budding career, the young tennis player has already racked up quite a few highlights!  Now, as a singles and doubles player for Case Western Reserve, his childhood dream of making it in the tennis world is coming to be.  But whether he goes pro or not, Umen is already balancing his rising career in Finance and Economics with his love of tennis.
The Early Days
All throughout HS, Aaron Umen was an active participant on the Boys Varsity Tennis team at LHS. During his Junior and Senior years, Umen took on the role of the team's Captain. One of numerous leadership roles he has held over the years, he carried out numerous responsibilities as the Varsity Tennis Captain. This included running all of the Captain's practices in the pre and post seasons of 2017 and 2018. In the Spring season of 2017, Umen even qualified for the individual MSHSAA State Tournament. There, he placed third in doubles.
Case Western Reserve
Since 2018, Aaron Umen has proudly represented the Case Western Reserve Men's Varsity Tennis team as a member and starting player. Case Western's team is currently in NCAA Division III. Each week, he dedicates over 20 hours to rigorous training, practice and matches for the top-12 nationally ranked team. He also helps to mentor young players in the way of athletics and personal matters. This dynamic is particularly important to the rising leader, who is enriched by the opportunity to assist others in their development and success! In 2019, Umen received the Intercollegiate Tennis Association Scholar-Athlete Award and was honored by the First-Team all UAA Honors designation.
Aaron Umen's career as a tennis player is fulfilled not only through playing the sport — but also through coaching others. He looks forward to assisting entry level tennis players in the process of fine-tuning their abilities, here on the Bartering Exchange Network!