Amy Elliot-Meisel is an Animal Rescue Advocate. A proud supporter of the Adopt, Don't Shop campaign, Amy is passionate about encouraging others to adopt cats and dogs into their family.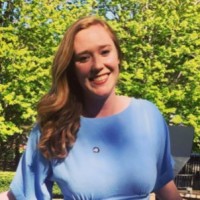 Training & Academics
Amy Elliot-Meisel is a proud graduate of Marquette University College of Arts & Sciences.  She maintains her Bachelor of Arts (B.A.) degree in History and Sociology.  During her time at Marquette, Amy remained active on campus.  She maintained leadership roles at the Marquette Wire, Marquette Tribune and Marquette University Television.  As Managing Editor of the Marquette Tribune, Amy took an active role in communicating and sharing the stories and goings-on of the MU campus.  She has since continued on to further her academic pursuits with a Masters degree (MEd) from Loyola University.
Academic Program Coordinator
Amy Elliot-Meisel joined the Rush University team as an Academic Program Coordinator in 2022.  This role is complemented by her previous experience in similar roles at Roosevelt University and Robert Morris University.  At both institutions, Amy worked as an Academic Advisor, which required her to provide instruction for entry level courses, as well as mentor individuals enrolled in different academic programs.
Personal Interests
Amy Elliot-Meisel is a self-proclaimed animal lover.  But you can ask anyone who knows Amy and they will immediately tell you that same thing!  Amy has always loved animals, for as long as she can remember.  During her childhood, she would constantly ask her parents to take her to the local animal shelter to visit the pets available for adoption.  Of course, she always had a secret plan up her sleeve, which was to adopt as many of those furry friends as possible!  She began volunteering with local animal shelters at a young age and continues to do so.  Not only is Amy a proud Animal Rescue Advocate, but she also fosters animals in her own home.