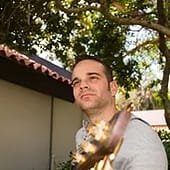 Faith is the focus of all that Brian Overton sets his mind and his musicianship to.  From his passion project, His Word to his work within the church, Brian's faith always comes first.  The Christian contemporary musician (CCM) also takes on the role of songwriter and producer with his own in-house music recording studio, the Green Room Studio.
His Word is a Christian rock band that consists of Brian Overton on vocals and bass, J.R. Rehm on rhythm guitar, Sheree Barnes on lead guitar and Justin Christensen on drums.  Formed in 2002, His Word is inspired by worship centric artists like Christ Tomlin, Building 429, Third Day and Jeremy Camp.  Two decades later, Overton, Rehm, Barnes and Christensen proudly play their original songs of faith locally and afar at various venues, including festivals, coffee houses, and Christian conferences throughout the country.  His Word is best known for their debut album, Silent, Bold and True which was released in 2007, as well as the track "Beautiful Savior." 
Green Room Studio
Founded, owned and operated by Brian Overton CCM, Green Room Studio is an independent music recording studio.  Taking an all-in approach to his musical process, Brian is fulfilled by the opportunity to take complete creative control over his Christian contemporary music projects.  At Green Room Studio, the CCM oversees the writing, recording, arrangement and mastering of all projects, including Brian's independent projects and collaborations with fellow Christian artists.  Brian joins the Bartering Exchange Network in hopes of offering Green Room Studio's services to musicians working on projects in a variety of genres and styles.