When Daniel McKelvey signed on to work with an AI-powered knowledge cloud called EdCast, he was thrilled for the opportunity. Although he completed his formal education in 1988 when he received his Mathematics and Computer Science degrees, McKelvey is subscribed to life-long learning.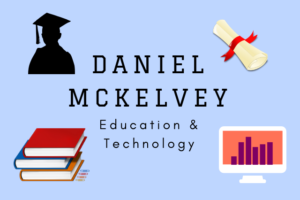 Through his promotion of the EdCast platform, he quickly realized how vital a life-long learning notion is. No matter what stage of his or her career a person is in, broadening their knowledge base is inherent to their continued success. Learning is key, regardless of profession, field or goals!
Daniel McKelvey's four years at EdCast exposed him to a whole new world of education. The internet, which was once a budding novelty, has since developed into a staple in society. If you're not on the internet, you're behind. But more importantly, if you're not actively learning, you're even further behind!  The internet offers a wave of new educational opportunities, many of which can be accessed completely free-of-charge. But the value of a funded education has not diminished because of this… In fact, the internet has only strengthened the world of collegiate-level academia. If someone has access to the internet, they have access to a world of knowledge. Even if their current profession tangles up their free time, they can still further their education through the internet via platforms like EdCast, online courses, and more.
As the Vice President of Business Development at University Consultants of America, Inc., Daniel McKelvey works directly with students who are pursuing admission to the top 200 American colleges and universities. He offers consulting services to these individuals in order to help them understand the admissions process as a whole. From selecting prospective academic institutions to applying for enrollment and seeking financial aid, Daniel McKelvey offers his clients valuable insight on the entire process.  
McKelvey joins the Bartering Exchange Network in hopes of helping even more individuals pursue collegiate educations, whether they are fresh out of high school or interested in returning to school to better their career opportunities. Visit his 'Services' page for more information on how he can make the college application process easier for you and your family!