Joseph Uglietto grew up on summer fishing trips and exploring the outdoors. To this day, he still maintains a genuine love for fishing. As an outdoorsman, the environment holds a special place in his heart. That's why at an early age, he became fascinated by technology seeking to minimize the human race's carbon footprint. Entrepreneurial in mindset, he also registered the profit potential within this rewarding industry of environmentally-conscious technology.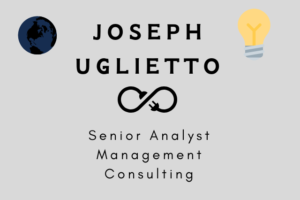 Backed by a Bachelor's degree in International Business & Finance, Joseph Uglietto is a business-minded professional. His career began with a Financial Advisor position at Merrill Lynch. While the experience gave him a taste of financial management in the real world, he craved to make a larger impact. As someone who actively supports clean energy and renewable resource systems, Joseph Uglietto has always kept up with the business news related to the industry. He followed developments surrounding the MA Department of Energy Resources move to enact a new set of energy-related incentives, the Alternative
Portfolio Standard. The change, implemented in January of 2018, offered an incentive to distributors and consumers of clean energy: Alternative Energy Credits. These Alternative Energy Credits would be sold to electric companies as an alternative to paying a clean energy fine.
Immediately, Joseph Uglietto backed the MA Department of Energy Resources program. This program provides consumers and distributors with paying incentive to transition from fuel sources that are harmful to the environment to fuel sources that produce more than 50% less greenhouse gasses. Calling on his background in Business & Finance, he registered an opportunity to help clean energy users in obtaining maximum return on their Alternative Energy Credits in this over-the counter market. As a result of the MA Department of Energy Resources newly enacted program, Joseph Uglietto founded Diversified Energy Specialists. DES is comprised of a team of Energy Consultants who assist clients through the process of obtaining and selling their Alternative Energy Credits.
The success of Joseph Uglietto's first business venture gave him a hands-on perspective of internal business management. The experience helped him to land the role of Senior Analyst at a management consulting company.
Joseph Uglietto joins the Bartering Exchange Network in hopes of networking with self-employed entrepreneurs. If you are in the early stages of establishing your startup, he offers his consulting services, free-of-charge, through our bartering network.