Professionally, Steven Mesia is a leader in the food industry. His company, Genesis Pathways, LLC, is a powerhouse in facilitating food industry procedures.
For Mesia, quality is key and he never settles for anything less than the highest. This translates into his personal life as a sailor and sailboat restorer.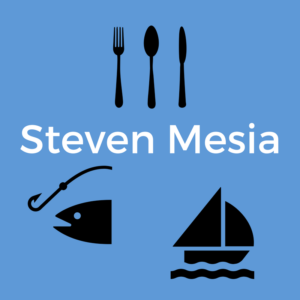 An outdoorsman at heart, there's nowhere he'd rather be on his days off than outside in nature. He loves fishing, hunting and hiking, but his one true love is sailing. He fell in love with the adventure of setting sail when he was just a boy. To Steven Mesia, there's no better way to go fishing than while on board a boat!

Navigating the waters is a thrilling experience for the seasoned amateur sailor. Breathing new life into old sails is something he has a passion for. Most recently, he purchased a 42 foot Ketch with a William Garden Porpoise design. A beauty built in 1963, the Ketch had seen better days. But this challenge of restoration was something Mesia encouraged. In fact, he purchased the sailboat as a project vessel. He got to work straight away, fixing a new sail on the boat while it was docked in Port Angeles. But, of course, this wasn't enough. Mesia also repainted and restored the sailboat to a T, replacing all damaged parts with new perfect fits which he crafted himself in his carpentry shop at home. After a year-long effort of handiwork, the Ketch was finally made into a shiny new boat! He celebrates this feat by setting sail on the Ketch as often as he can!

Restoring sailboats is something Steven Mesia has quite the talent for.  The more challenging the project vessel, the sweeter the fruit of labor, he says!  Now, he'd like to help other amateur sailors in their journeys by assisting in their restoration of old boats.  Check out his Services page for more information on Steven Mesia's Sailboat Restoration.
Services
http://barteringexchangenetwork.com/service/sailing-and-sailboat-restoration-with-steven-mesia/