Tyler Buntrock is a Professional Recruiter with a passion for helping others achieve their career goals. A natural mentor, Buntrock sets out to positively impact as many people as he can.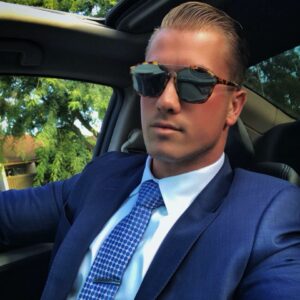 Athlete
Since childhood, Tyler Buntrock has been an active athlete and sports fan. His favorite sports have always been baseball and football — though Buntrock enjoys all team sports! Growing up, his childhood was enriched by the teamwork mentality found out on the field. Even still today, the same rings true! At each practice and every game, Buntrock is fully dedicated to helping his team thrive on the field. Unafraid to take a step back in order for a teammate to shine, he strives more to compliment his teammates than to compete against them.
In recent years, Tyler Buntrock has gravitated towards the gym life. Each week, he follows a routine that focuses on weight lifting. While at the gym, Buntrock's mentor mentality can't help but break through! He thoroughly enjoys the opportunity to help others as they work on perfecting their own fitness regimens. In the future, he may even consider dabbling in Fitness Training as a side hustle. As someone who appreciates progress and development, Buntrock believes that he would benefit from mentoring others toward their fitness goals.
For the past four years, Tyler Buntrock has been a proud member of the Insight Global team. He initially joined the staffing firm as an AF&E Recruiter. However, after quickly showing promise to his executive leaders, Buntrock was promoted to the role of Professional Recruiter in less than one year. Ever since, he has continued to act as a powerhouse on the team, racking up numerous in-house honors and achievement-based awards. On five separate occasions, Buntrock earned the title of Professional Recruiter MVP. A shining star on the Insight Global team, Buntrock is bringing his expertise to the Bartering Exchange Network — for free!