Usher Khan is a medical assistant specializing in Dermatology and Orthopedic Surgery. An aspiring physician, Khan is in pursuit of a career in the medical field with a neuroscience focus.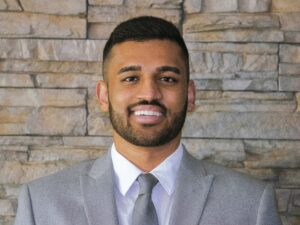 Education & Training
Usher Khan is a pre-med student pursuing a path to a career in the field of medicine.  He maintains his Bachelor of Science (B.S.) in Neuroscience Studies, which set the foundation for his pursuit into the medical field.  With his background firmly set in neuroscience, Khan has since ventured off to fine-tune his areas of expertise in the world of medicine.  This is largely being accomplished through hands-on experience, thanks to his medical assistantships. 
Medical Assistant & Registered Orthopedic Tech (ROT) 
Since 2020, Usher Khan has been a registered orthopedic tech (ROT).  He maintains this role in two medical assistantships at a Dermatology Practice as well as an Orthopedic Surgery Practice.  Thus far, these two experiences have proven exceptionally rewarding.  Gaining hands-on experience in two different areas of medicine has been an exciting journey for Khan.  He looks forward to fine-tuning his expertise even further as he continues to maintain these roles in dermatology and orthopedic surgery.
Throughout his studies, Usher Khan worked as an independent academic tutor.  Khan was fully committed to this role for several years, beginning in high school.  This self-employed venture was a full-time commitment for Khan, with 30-40+ hours of his week dedicated to his tutoring services.  He now takes on the opportunity to tutor students on a less frequent basis.  However, it is still a great passion of his.  That's why he has decided to join the Bartering Exchange Network to offer Academic Tutoring Services to students for free — exclusively for members of the BEN!